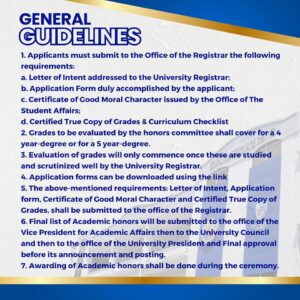 The City of Malabon University is pleased to announce that applications are now open for Latin Honors for the Academic Year 2022-2023. To be eligible for Latin Honors, the candidates must fulfill the following general guidelines, which are posted below.
Application forms, along with the required supporting documents, should be submitted to the Office of the Registrar.
We encourage all eligible students to take advantage of this opportunity and submit their applications for Latin Honors. Showcasing your dedication and excellence in academia is deserving of commendation, and we look forward to celebrating your achievements.