The First Academic Advisory Council meeting of the City of Malabon University for this year was held yesterday, January 18th.
The Council Meeting held via Zoom was all about the President's Report wherein CMU University President, Prof. Melissa Grace S. Oreta discussed the accomplishments of the university in the past months. There were also new proposed policies that have been approved by the council that aims to improve the quality of education in the university.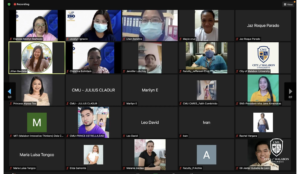 Three NEW programs were also presented. These are the Bachelor of Library Information Science, Bachelor of Arts in Psychology, and Masters in Public Administration in Good Governance. Two of the said proposed programs were approved by the council.
The meeting was attended by the DEANs from different departments and the entire academic council. The Presidents of each Society were also present in the meeting.
This milestone is another step closer to the university's goal of acquiring improved and developed academic standards.