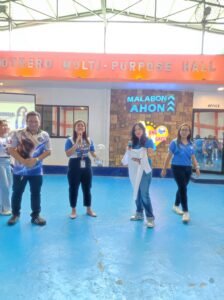 The National Service Training Program-Civic Welfare Training Service (NSTP-CWTS) students and faculty, in partnership with the local government, successfully conducted a community immersion program on April 30, 2023 in Brgy. Potrero, Malabon. The event, attended by city and barangay officials, was focused on providing essential information about mental health and gender inclusivity to the youth of the community.
City Mayor Hon. Jeannie Sandoval, Brgy Potrero Chairwoman Sheryl Nolasco, CMU President Dr. Glen DV De Leon, NSTP Director Dr. Porfirio Catolico, and other university officials were in attendance, showing their strong support for the initiative.
The program consisted of a series of interactive workshops and seminars, where participants learned about various mental health issues affecting young people, as well as ways to promote gender inclusivity and acceptance. The NSTP-CWTS Program aims to create a more inclusive, informed, and resilient community by engaging with and educating the youth on these essential topics.
Mayor Sandoval expressed her gratitude to the NSTP-CWTS students and faculty for their efforts in organizing the event, stating that "such initiatives play a vital role in raising awareness and fostering a supportive environment for everyone, regardless of their gender or mental health status."
As part of their ongoing commitment to community development, the NSTP-CWTS Program will continue to collaborate with local government units and stakeholders in future projects, aiming to address various issues affecting communities and empowering the youth to take an active role in positive change.