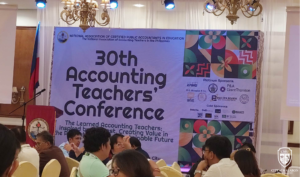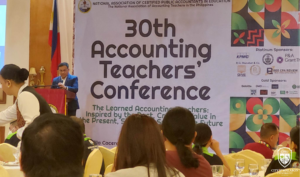 Dr. Glen De Leon, CPA, the University President of City of Malabon University (CMU), along with Prof. Jefferson Cruz, CPA, recently attended the 30th Accounting Teachers' Conference in Naga City, Camarines Sur. The conference, held from April 26 to 28, 2023, was centered around the theme "The Learned Accounting Teachers: Inspired by the Past, Creating Value in the Present, Shaping a Sustainable Future." This participation highlights CMU's ongoing commitment to academic excellence and the enhancement of its Bachelor of Science Accountancy (BSA) program.
The conference brought together esteemed accounting educators and professionals, providing a platform for the exchange of ideas, best practices, and innovative teaching methods in the field of accountancy. By attending this prestigious event, Dr. De Leon and Prof. Cruz gained valuable insights and knowledge that will directly benefit the BSA program at CMU.
This collaboration and knowledge-sharing will lead to the development of a more robust and future-ready BSA curriculum, equipping CMU students with the skills and knowledge necessary to excel in the rapidly evolving accounting landscape. This, in turn, will contribute to the university's vision of shaping future leaders in the accountancy profession who are capable of making a positive impact on society.
With the experience gained from the 30th Accounting Teachers' Conference, CMU's leadership continues to strengthen its commitment to providing a world-class education for its students. The university is confident that the BSA program will continue to grow and adapt to meet the demands of the accounting profession, producing graduates who are well-prepared for the challenges and opportunities of the 21st century.