CMU Business Administration students can expect 10 more classrooms through the construction of the 5-storey multi-purpose building.
CMU University President Prof. Melissa Grace Sison-Oreta and Malabon City Mayor Antolin Oreta III led the groundbreaking and unveiling of the said building. They were joined by Congresswoman Jaye Lacson-Noel, Vice Mayor Ninong dela Cruz, Kaasenso Jose Lorenzo "Enzo" Oreta, and the whole Pamilyang Malabonian.
The blessing of the construction of the building, meanwhile, was officiated by Rev. Fr. Rene Richard Bernardo.
In her speech, Prof. Sison-Oreta expressed her gratitude to Cong. Lacson-Noel for making the 5-storey multi-purpose building possible. She also extended her thanks to the city councilors, particularly to Kaasenso Enzo Oreta, for the approval of CMU as a Local Economic Enterprise.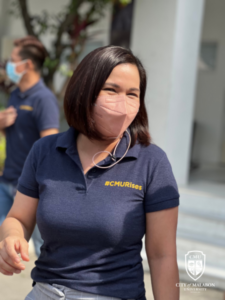 "We at CMU are very committed to make this institution a gem of Malabon City. This is our way of giving recognition to the city and at the same time, providing global education for the youth of Malabon," said Prof. Sison-Oreta.
Mayor Oreta, on the other hand, put premium in the rising standards of education of CMU.
"In a short span of time, CMU has been able to elevate its quality of education. It is really impressive that CMU is now an ISO-certified university and has already been accredited by various institutions such as ALCUCOA and CHED," Mayor Oreta added.
The Phase I of the 5-storey multi-purpose building is set to begin construction this year, while the Phase II will proceed sometime in next year wherein an elevator is expected to be built.