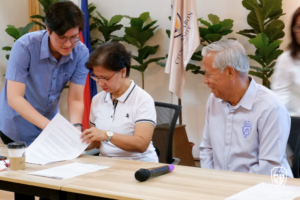 On March 28, 2023, a Memorandum of Agreement (MOA) signing ceremony was held between the City of Malabon University (CMU) and the General Querol Scholarship Educational Subsidy Program. The signing took place earlier in the day, and was attended by the officials of both institutions.
During the signing ceremony, the officials of both institutions expressed their commitment to providing educational opportunities for deserving students. They emphasized the importance of education in the development of individuals and society as a whole, and how financial constraints should not be a hindrance to achieving one's goals and dreams.
After the signing of the MOA, the financial subsidies were immediately granted to the four selected CMU students, who were present during the ceremony. The recipients expressed their gratitude for the assistance provided, and how this would greatly help them in their studies.
Again, congratulations to the recipients!