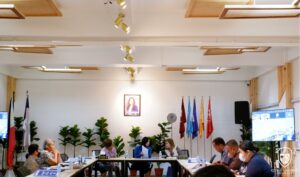 The City of Malabon University Board of Regents continues to demonstrate its commitment to excellence in education, as evidenced by the recent 3rd Regular Meeting held on April 27, 2023. The board came together at the CMU Hall to engage in productive discussions and make important decisions aimed at enhancing the university's processes and operations.
We are proud to announce that the board approved several resolutions that will bring positive change to the university and further improve the student experience. Additionally, the board warmly welcomed Dr. Glen DV. De Leon, the newly-elected CMU President and BOR Vice Chair and the new set of University Student Council Officers, who will play a crucial role in shaping the future of the university and advocating for student needs.
This meeting serves as yet another testament to the dedication and hard work of the City of Malabon University community. We are confident that the actions taken during this meeting will have a lasting impact and pave the way for a bright future for the university.